Customer Letters – It's nice to be appreciated!
Here are a couple of customer letters we recently received. They refer to two separate projects. Furthermore, the first customer letter is an en-suite makeover in Elmsthorpe, Leicester. Fully refurbished, all walls and floors tiled and all new fittings. In addition, we were recommended to the client by Tracey from Tysons Property Services. Tysons Property Services were there repainting most rooms in the property. Furthermore, we were thrilled to receive this letter of thanks.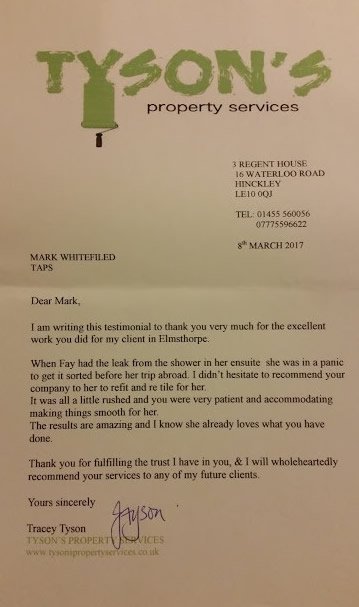 Customer Letters – It's nice to be appreciated!
We received this customer letter after completing a cloakroom suite situated under stairs in Hinckley. In addition, we had to reroute pipes to conceal them and tile the floor, including upstands. As well as, fit new w.c and basin with vanity unit.
In addition, TAPS were recommended whilst the client was shopping in North Wilshire Carpets, Hinkley.
It was nice to hear our work was appreciated. We would like to thank Maggie for recommending us.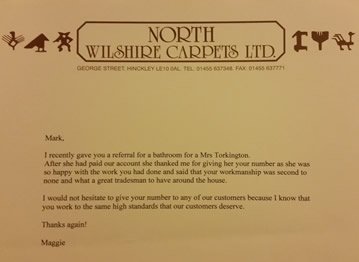 Thanks for reading,
TAPS