Thinking of having underfloor heating in your new bathroom?
Underfloor Heating – Years ago the bathrooms were designed to be a functional place. These days it is a place to relax and enjoy! In addition, it can set your mood at the start or end of the day.

Underfloor heating is becoming more and more popular. It can be laid beneath almost any flooring material; tiles,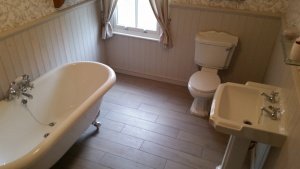 stone, wood, or even carpet. Therefore, it can save space in smaller bathrooms by replacing the need for a radiator. Consequently, providing an efficient way of managing your room temperature. Furthermore, as heat rises from a larger surface area at a lower heat it creates a more constant room temperature.
There are 2 main kinds of underfloor heating to consider
Electric underfloor heating (or dry system)
Plumbed underfloor heating (or wet system)
Electric underfloor is considered the simpler method and is ideal for existing floors. Furthermore, a big benefits is the minimal height addition to your floor level. Also, is quick and easy to install. We use a qualified electrician to fit a thermostat and connect to your power supply.
Plumbed underfloor heating is the premier option to heat your building. It is popular for extensions or new build projects. Fitting is more time consuming and costly. This is balanced against running costs being more economical long term.
We would be delighted to talk to you about your tiling needs. Contact Us today using our contact form or call us on 0116 344 0255.
TAPS